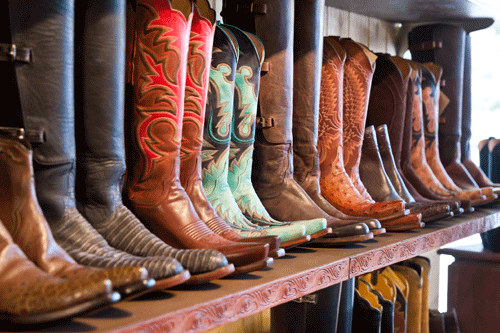 Nothing says Texas like a great pair of Cowboy boots. There are hundreds of western wear stores throughout the lone star state. From small town boutique stores on scenic main streets, to mega stores in the big city. Many of the stores offer a unique shopping experience that goes far beyond just Cowboy boots. Some of our favorite stores in Texas.
Allensboots.com – If you have the chance, visit one of their two stores in Austin. The original on South Congress or their new store in Round Rock.
Texasbootcompany.com – Located just outside of Austin in Bastrop. If you have a chance to visit their store, they also have an Texas Boot Museum.
Cavenders.com – Boot City has locations all over Texas, Oklahoma, Kansas, and few other states.
Bootbarn.com/ Another great Texas Western Wear company with many stores located in the DFW area, and few others around Texas.
jlmercerboots.com/ – Custom boots made just for you.
Littlesboots.com – High end custom boots out of San Antonio
If you're looking for that special gift from Texas, a great pair of Cowboy boots is outstanding choice.
There is not better place in Texas to show off your cowboy boots that hitting the bar, restaurant and clubs in Dallas. If you want to find a some great deals on food and drink, check our DallasHappyHour.com